Special Order for Girl w Jellycat rabbit & Jellycat toothly Faces 6&8" Promo
Pink Maison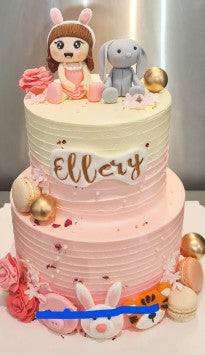 Date of event: 21 May 2023 
Cake size: 6&8" yuzu & lychee rose
Child's name Emma and age 100 Days 
Cake design to follow as the picture. The faces to be replace with Jellycat toothy character of Pig, Dog, Shark, Dragon, 
Promo sets includes 25 mini cupcakes, 25 macarons and 25 mini brownies. 
Price includes delivery. If the venue is Changi, Loyang, CBD, town or Sentosa. There will be a S$20 surcharge.