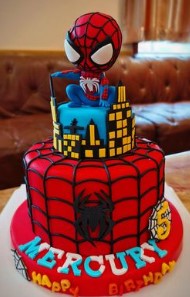 Date of event: 10th September 2023 
Cake size: 6&8" Cake flavour: Top tier Lychee Rose, Bottom Tier Chocolate 
Child's name: Huxley, Age 3 
PRomo set includes 25 mini cupcakes colour themed and 50 macarons colour themed of Blue and Red. 
4 spider man toys will be used as picture 2. Design to follow the single spiderman.  
Price includes delivery. If place is at Changi, Loyang , Sentoisa, Tuas, CBD and Town, there will be a S$20 surcharge for delivery.