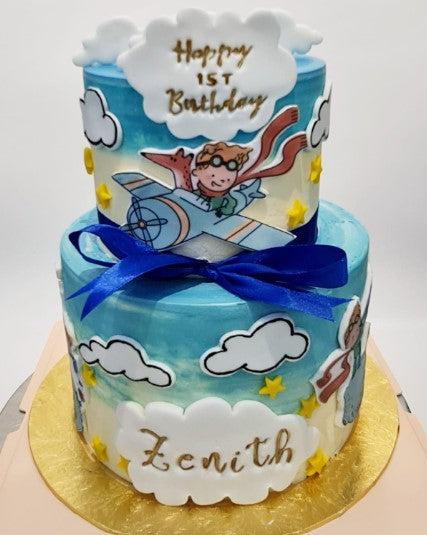 Sizing Guide:

6" Serves 6 to 10 pax
7" Serves 8 to 15 pax
8" serves 10 to 18 pax
5"+7" serves 20 to 30 pax
6"+8" serves 30 to 40 pax
7"+9 Serves  40 to 50 pax
Please note for 1 tier cake, top flavour selected would be the cake flavour. 
Cake order the lead time is at least 1 week in advance.
Pink Maison is closed every Monday to Wednesday and Public Holiday.
Cake is coated with buttercream, stable in air condition temperature.
Best to consume when it is 1 hour out of the refrigerator. 
Wording/Fonts used for the cake design is the sole discretion of the Pink Maison.
With compliments from Pink Maison, every cake order comes with number candle, knife and a happy birthday tag.
Delivery:

Free delivery service is only applicable between 11:00am to 1pm, 2:00pmto 4pm and 6 to 8pm. 
A charge of $20 will be required for Changi, Loyang, Tuas, Sentosa, CBD area. Town and Jurong West.  
For specific time of delivery, Kindly indicate in the special instruction box the1 hour range of time of delivery you would require before proceeding to checkout. Pink Maison will try to accommodate after the communication with our delivery drivers.

Further Customisation,

Do reach out to Pink Maison via IG msg or whatsapp. Example such as change of cake colour.
Any modification of design would require a top up fee depending on the complexity of changes.
Do advise the birthday person's name and age in the instructions before check out.