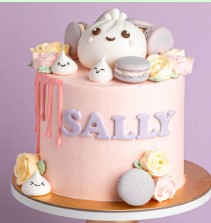 Date of event:  23rd July 2023 
Cake size : 5&7" Lychee Rose 
Child's name: Alyssa,  Child's Age: 100 days 
Top layer pink so that the white Bao can stand out. 
Colour to be light pink, dull pink. and ombre smooth creaming effect. 
Promo sets includes 25 mini cupcakes, 25 macarons and 25 mini brownies.  
Price includes delivery. If places to Changi, Loyang, Tuas, Sentosa, CBD and town will have a S$20 surcharge.